Seoul Fashion Week : Style & Substance
A real, casual conversational approach to
fashion and Seoul Fashion Week
Story by Lorena Jiménez and Dianne Pineda-Kim
Photos by Seoul Fashion Week Organization and Manon Thore
"Instead of the usual stringent and fashion jargon-filled reviews, our Groove editors share their first impressions, on ground experiences, and observations about 2019's Fall/Winter collections."
Dianne: How was your experience of Seoul Fashion Week this season?
Lorena: This season I was very impressed by the young designers from Generation Next; there were a lot of new inspirations from their collections as well as outside of their runways. Unfortunately, the organization of the whole fashion week was not as good as it could have been.
D: This year we experienced an underground venue in DDP called Sallim B3F. It wasn't really ideal; because of the dark lighting and the fact that it was crowded, it wasn't good for seeing the details of the clothes.
L: What else caught your attention this season?
D: Some of the shows were not only about designs and styling but overall performance as well, like guest idols and actor models, great music, and some surprise appearances. What about you?
L: I was surprised that many brands are diversifying into other items like shoes, bags, hats, and other types of accessories.
D: What was your most memorable moment?
L: At the show Baroque, I was brought to tears because, at the beginning and ending of the show, they presented a video in memory of a model who used to walk for the brand who had recently passed away. It brought a very deep and human touch to an experience that is usually mostly about fashion and aesthetics. I could feel the pain of the designer, the strength of the former model and also my own realisation of letting go of any mundane annoyances and enjoy each minute to the fullest, because you never know when it will be your last. It was raw and real, SAD but also beautiful.
D: For me it was the selection of models, too. For some shows, there were some mature models, people with disabilities, and real people who walked alongside the models on the runway. It felt more refreshing and more real.
YCH
D: We both agree that YCH is one of our favorite designers from previous seasons, and we were looking forward to seeing the show.
L: Last year the bags and the boots really made an impression on me, but I was looking forward to the F/W clothing items of the collection because the brand has more space to include more beautiful lines and richer fabrics.
D: YCH never disappoints when it comes to craftsmanship. It was a very crowded show and we were seated only a few inches from the models. But it was a better view to see how all the little details come together.
L: The coats and the suits were outstanding; they had beautiful pattern-work that had an amazing flow to them. I couldn't take my eyes off of each piece. What was your favorite piece?
D: I didn't have one favorite because the whole collection was amazing. The designer really showed restraint, elegance, and a good eye for color.
TI:BAEG
D: We have a lot to say about this show.
L: This was another one of our most anticipated venues, right up on our list of favorites. It turned out to be one of the best shows but sadly the one with the worst seats of the whole fashion week. We got front row tickets from the designer but, when we arrived, our seats were nowhere to be found; somebody else had taken them and the crew did not actively help at all, even though we asked multiple times, I was very disappointed at this fact because we really loved the collection and the designer, and she worked very hard to present this new season and made sure to give us good spots so we could appreciate that, but we could not even see the pieces from so far back.
D: Anything can happen in shows and, for both of us, who have been covering fashion week for several seasons, we are quite used to delays, disorganization, and frustrations but this one hit us hard because we both had strong, positive feelings about the designer. For me, I was looking forward to the narrative because Ti:baeg always has a good story behind the clothes.
L: As for clothes, I loved all the pieces of this collection, especially the jean items and all blue color palettes. The Swarovski detailing and the flowiness of the pieces added a very ethereal, calm, and dreamy vision to the whole show.
D: What I remember from Ti:baeg was that it had elements like sky blue, pastel greens, sheer lace, corals, that for me kind of depicted air, water, land, and other references to nature. The collection gave off a very poetic, tranquil feeling.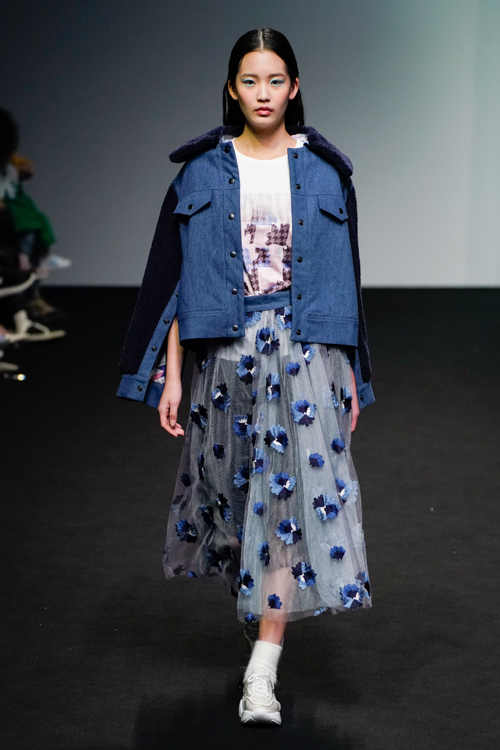 PEOPLE OF THE WORLD
D: I feel bad I missed this show. How was it?
L: For me it was one of the big highlights and inspiration sources of the whole fashion week. I was extremely pleasantly surprised by a brand that I didn't know about before. It was amazing, I was so inspired. Everything in the show, from aesthetics, fabrics, designs, music, everything was art, beauty, and creation more than just fashion only - it was so inspiring.
PARTs PARTs
L: We were both really looking forward this show since it is zero waste and that is something that we both really believe in and have not seen before. How did you think they would incorporate it into the collection?
D: I think this show was very thought-provoking because it made people more aware of the environment. This is especially needed in South Korea where trends rapidly come and go. We need more designers who can combine style with eco-consciousness. It's usually quite hard to combine elements like practicality, comfort, and trends, but the designer really pulled it off.
L: Yes, I agree I feel like not only the pieces were meant to have a minimal surplus of materials going to waste, but also with the designs being not only beautiful but also timeless you could use the items and still love them for a very, very long time, which reduces the "wants and needs for quick disposable fashion."
D: We just had one little detail that we wish that they hadn't left out.
L: Yes, it would have been even more perfect if they had given out e-tickets to also reduce the waste that goes into disposable paper tickets. Let's hope next season they incorporate them.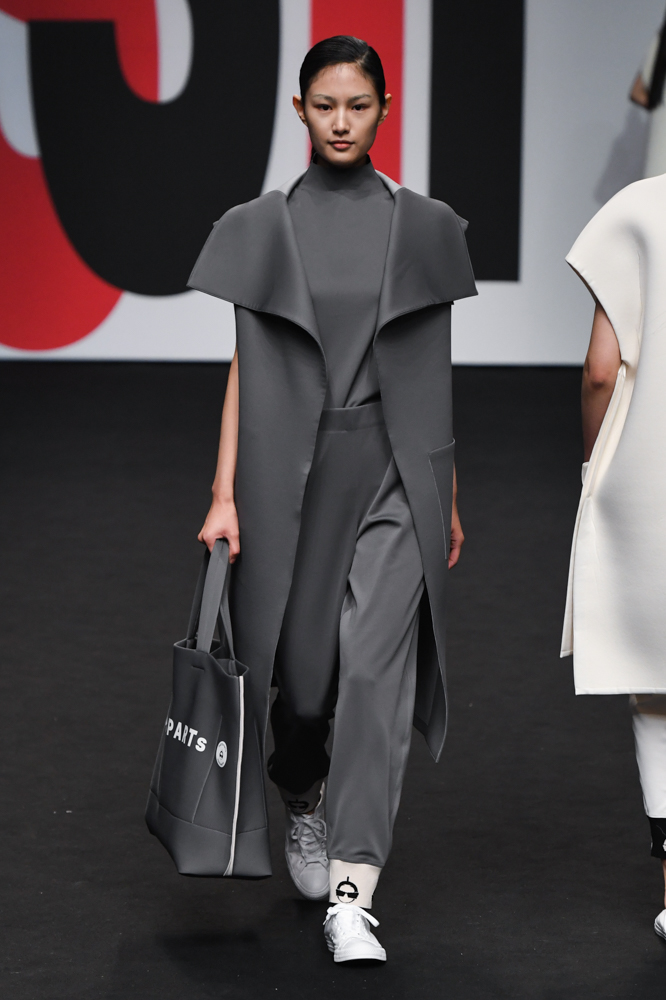 MINJU KIM
D: I wasn't able to attend Minju Kim's show - what did you think about it?
L: I feel like the show this year had a much darker atmosphere and was a little bit more mature in terms of designs, unlike before when the brand used to stick to more girly and bright concepts. They still kept the traditional patterns that can be found in their core designs, which in my eyes hold a slight resemblance to Hanbok, but this time those lines were much more sophisticated, bringing a fresher and chicer perspective to their signature silhouettes.
GREEDILOUS
D: This show had us panicking for a second.
L: We were watching the show and there was a stop, and suddenly all of the security ran towards the start of the runway. We did not know what was happening but everyone seemed to be panicking and so were we.
D: It was only after the show that we found out that one of the staff members collapsed and they had to perform CPR. As I said, anything can happen in the shows. The stress, rushing around, and all the crowds every day can get to you. So I hope they have recovered well after that incident.
L: Yeah, when we asked around afterwards it seemed like the person was thankfully okay. We were all shocked, but at that moment we all witnessed first-hand how the show must go on. Since after the quick intervention, the runway kept flowing as usual.
In terms of design, I really loved how the designer incorporated new patterns that were very different from her usual style. The whole hand-painted artistic vibe brought many pieces to a whole new level.
D: We learned that the collection was inspired by Jean-Michel Basquiat's graffiti and artworks, and it really showed from the model's makeup, the paint-like mix of colors on the jeans, down to the urban, sort-of-New York feel to the pieces. But of course, because it is Greedilous with their signature prints and patterns, there were a lot of looks that retained its psychedelic Rorschach-inspired inkblots. The brand is all about showmanship, which is why it is loved by Seoul's trend-savvy youth.
D-ANTIDOTE
L: What were you expecting from D-Antidote's Space Jam concept?
D: The beginning of the show was very conceptual; right from the opening look, I knew what the whole collection was about: luxury athleisure styles, street, and a little bit of pop culture. It's good because the designer had a very solid direction for his collection.
L: I was pleasantly surprised by the way he incorporated metallics. It's tricky to wear metallics because it could make or break an outfit, but he made it look very stylish and consistent over the course of the show, even with a lot of metallic pieces being part of the collection.
D: The materials were innovative, like a mix of PVC, metallics, and puffers with more comfortable fabrics to balance the lightness and heaviness of the looks.
L: You are right, I was also impressed by the quality of the materials. There was a jacket that seemed to be literally out of a space suit, super warm and with a very durable and protective material, I feel like it would be a great piece to wear for city life, even in extreme weather, to stay chic and warm no matter if it rains, hails, or snows.
BOURIE
D: Bourie took us back to our childhood fantasies and favorite character Hello Kitty. What trends caught your attention?
L: I was surprised how they brought Tartan back. Tartan has been recently used in chicer alternative pant styles, but it had been quite a while since I had seen it in such feminine silhouettes.
D: I just liked how Bourie had fun and playful with this collaboration because usually it always follows a very dark aesthetic. It still had a lot of blacks but it showed some pieces with subtle signature Hello Kitty details like the red ribbon and colors without being too literal.
L: Yeah I loved the red ribbon and small designs of some pieces and also how they used complementary colors to illuminate the collection, making it a tad brighter through the use of different variants of the yellow color palette.