Surfing Becomes New Summer Pastime
Story By: Emma Kalka & Flower La Warner
Photos By: Surfyy Beach & Flower La Warner
While heading out to the beach has long been a summer pastime in South Korea, surfing has only recently picked up in popularity. With the first local surfers finding refuge in Jeju Island, where they were allowed into the water more readily - mainland beaches would often kick surfers out before more beaches were open to the sport - more and more beaches in the country have been allowing it.
And with that, more surf schools have been popping up at some of the best surf spots all around. Jeju currently has several, while Yangyang has become one of the most popular locations on the mainland with thousands flocking there each season. And while hardcore surfers hit the waves year-round, the most popular time is during July and August, when most office workers take their summer vacation.
Groove has put together a short rundown of surf schools and shops in various areas of South Korea for those who are looking to catch some waves, whether beginners or advanced.
Surf all day, party all night at Surfyy
119, Hajodaehaean-gil, Hyeonbuk-myeon, Yangyang-gun, Gangwon-do



Summer has arrived in the Land Of The Morning calm and for most of us, Korean summers can be anything but pleasant - especially if you are a Seoulite and living amongst the concrete giants. Yes, the Han River is a pleasant escape but nothing quite hits the sweet spot like a weekend along the east coast at Yangyang's sexiest surf spot - Surfyy Beach.
With white sandy beaches and crystal clear water - yes, believe it, no mud flats in sight - this area is a prime location for beach lovers and surf enthusiasts.
Surfyy Beach was established five years ago has very quickly gained popularity. It is very much the IT place to be seen in summer, and it's no surprise as to why. Boys and girls looking for some decent eye candy say goodbye to Tinder and hit the beach for some real life matches.
But besides the beach boys and beach babes it is Surfyy's amazing facilities and staff that truly make it the place that it is.
Surfyy Beach has something for everyone. Whether you are a world class surfer, a "surfing for dummies" kinda human, a beach bum who just wishes to soak up all that vitamin D goodness with a Corona in hand, a YouTuber looking for that next dope shooting location, an Instagrammer who wants to get that perfect #beachgoals photo, a solo traveler or traveling with the entire family, Surfyy has you sorted.
For those wishing to surf it up or learn the basics, Surfyy has some awesome deals and a quality English-speaking surfing instructor to ensure you get to catch those waves. If surfing isn't your cup of tea, a cold Corona under a cabana in a hammock might tickle your fancy. Or you can enjoy a casual swim amongst the surfers - as of this summer swimming is now permitted on the beach, but please don't bring that giant pretentious blow up unicorn or flamingo. Surfyy is primarily a surf zone and ensuring the safety of the surfers is of the utmost importance.You wouldn't that giant pink flamingo making news headlines as being the cause of a top surfer's death now, would you?
All jokes aside, Surfyy is truly where the party is at this summer. They have just reopened their beach bar and party area, and this is the place where beach party dreams are made. So party monsters of Korea, if you looking for the hottest place to party this summer, make sure you join Surfyy for one of their sexy Saturday sessions and party under a Yangyang summer sky with DJs spinning the decks on the beach.
"Surfyy has truly come a long way and it is constantly evolving, and this year we are coming out better than ever," said Jake McFayden, a surf instructor at Surfyy.
The resort's season has officially kicked off and will run until Oct. 31. Be sure to visit before then - Surfyy is the only place on the East Coast where you can surf all day and party all night.
Needing a place to crash after a mad night of partying, don't worry - pensions, guesthouses and hotels can all be found within walking distance from Surfyy Beach.

Check out some of the places listed below for great value and ocean views.

The Ocean Hill: 010-2377-0494
Hello Peace :0336720021
Marine Resort : 227-81-19312

For surfing enquiries and more info contact
Jakey
Tel: 01064710420
Email: jakeywakeyeggsandbakey@gmail.com
Surfyy Insta:surfyy_beach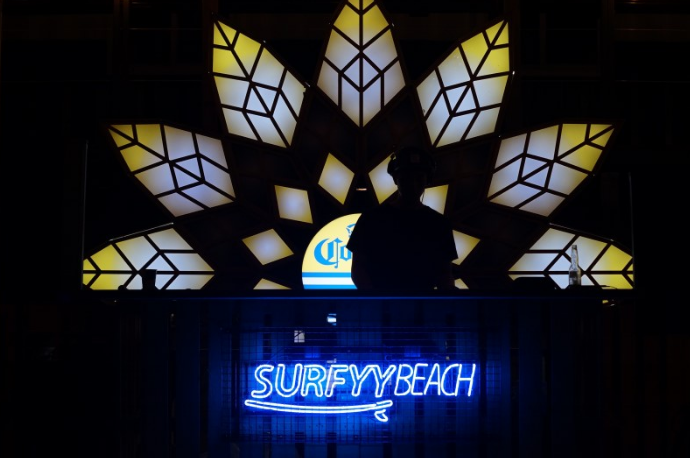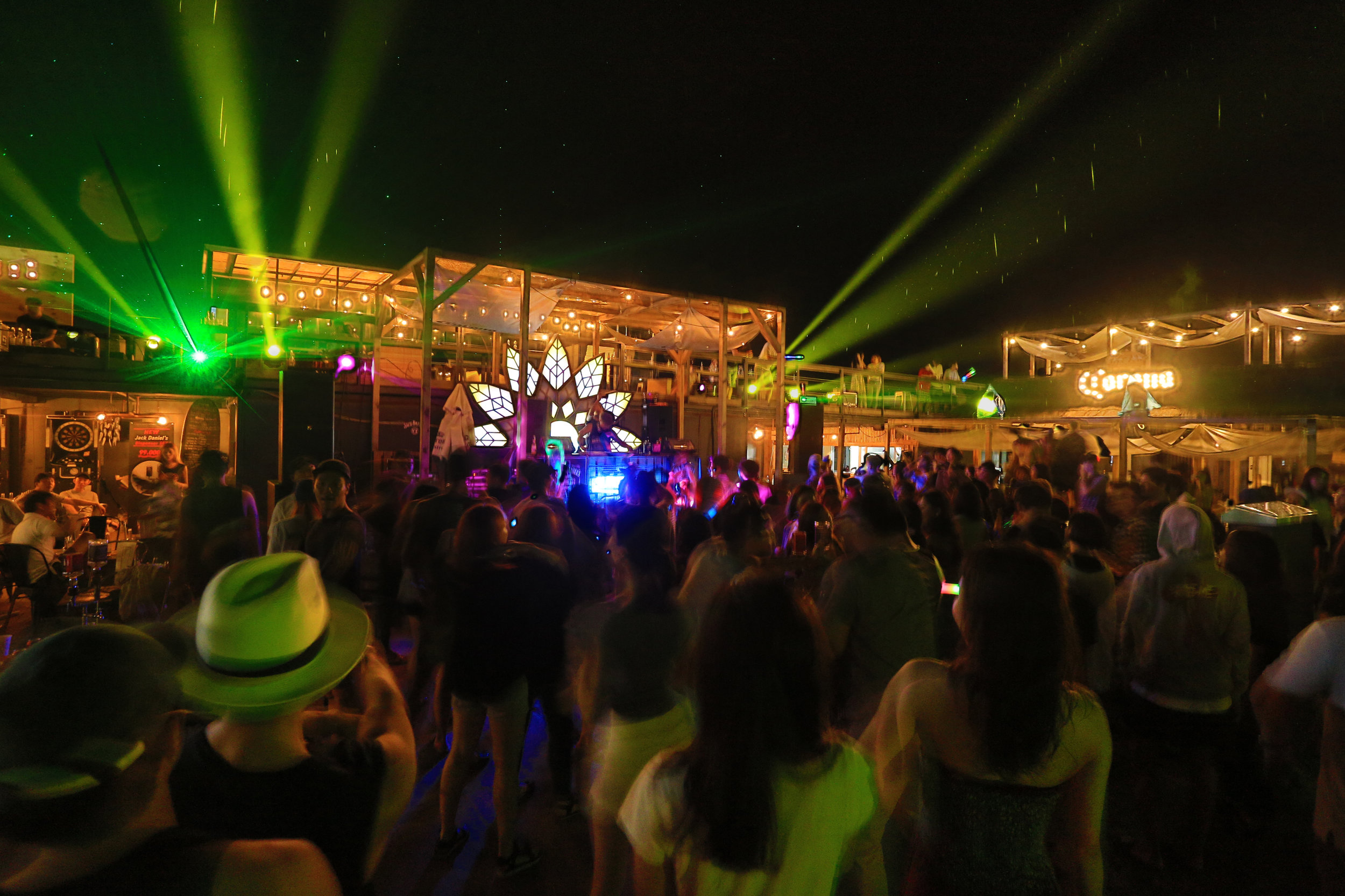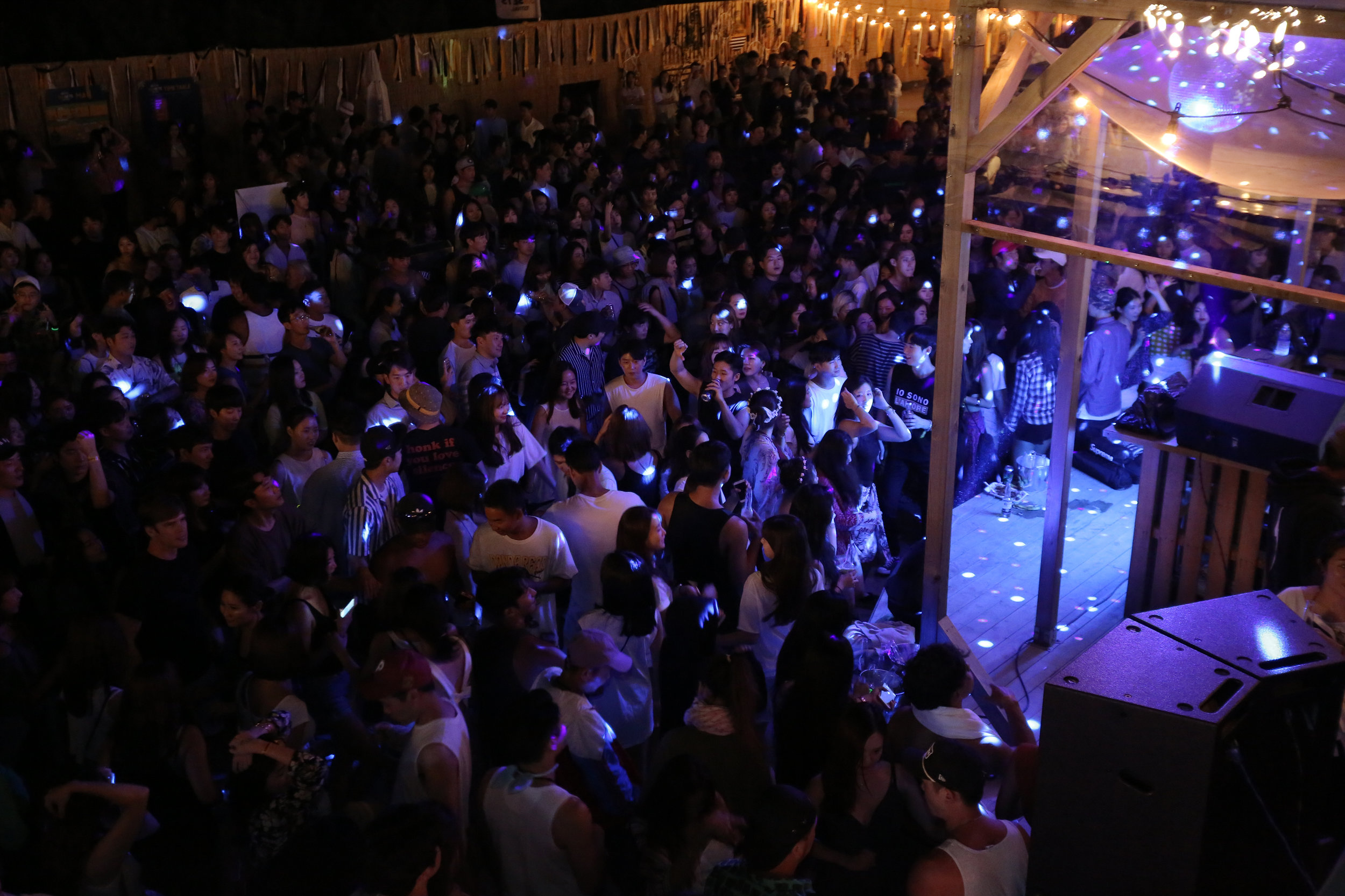 Surf's up at VIGOR
70 Hyungjaehaeahnro, Sagyeri, Ahndeokmyun
While surfing is just now starting to pick up in popularity on mainland beaches in South Korea, Jeju Island has long been a haven for surfers with several surf schools popping up on a few different beaches around the island. Jungmun Beach is one of the most popular and busiest, though Weoljong Beach and Sagye Beach have also become home to surf schools.
It is the home of VIGOR Surf School, which offers one- and two-day lessons that include board and suit rentals. Introductory lessons teach students how to paddle and stand on boards before students can then take to the water and attempt surfing on their own. The school says that their location makes it a perfect spot for beginners to learn and it has surf spots that are only open to VIGOR students.
Classes are great for those who want to learn how to surf but have a limited swimming experiences. Classes are conducted when the water depth is low and students can further practice during low tide. However, to continue surfing after class, they do recommend that students learn to swim first.
Classes are offered year-round, though it is recommended that students use full body suits from November to May.
One-day packages include an hour of on-the-ground class and then two hours in the water for 60,000 won. This includes board rental, though if you need to rent a suit it is an extra 10,000 won. The two-day package includes the same though set over two days and is 130,000 won. Board and suit rental are included. For those who only need a board, board rental is 30,000 won for three hours.

Check out the website for more information or to reserve a lesson at vigorsurf.com.
Special note: If you are in need of a place to stay, here are nearby pensions. If you present your reservation with VIGOR upon booking, you can receive a special discount.

Yeonwoldang Sagyeunninae
Phone: 010-7588-7825
Homepage: https://booking.naver.com/booking/3/bizes/232064

Gil Guest House
Phone: 010-5455-2893
Homepage: https://booking.naver.com/booking/3/bizes/234334/search?area=pll


Lounge House Jeju
Phone: 064-792-5670
Homepage: https://jejudaa.modoo.at/?link=d65kfb3n

Jadam House
Phone: 010-9511-7792
Homepage: http://jadamhouse.com/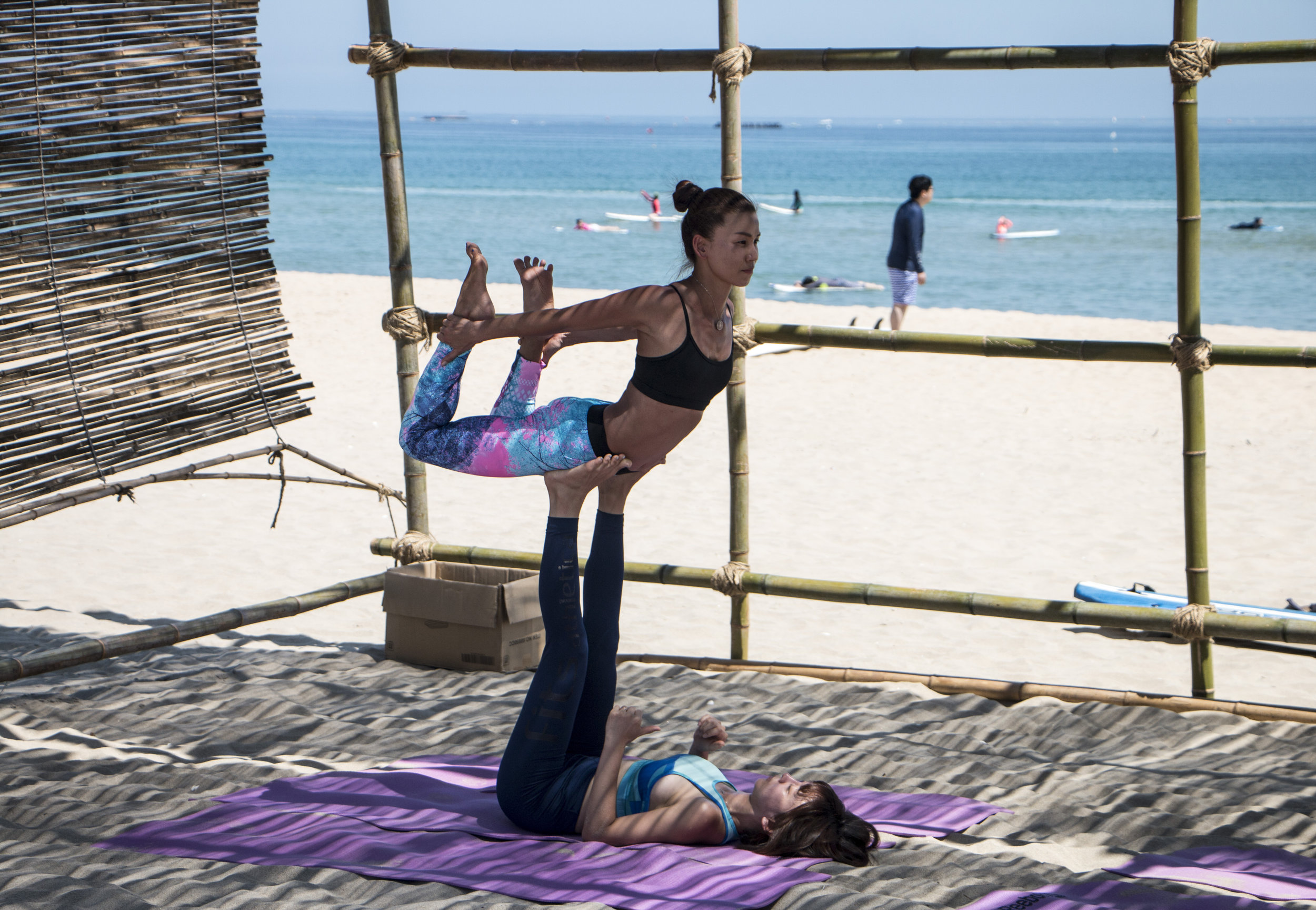 Get Trained by a Pro at Let Me Surf
2 Cheonjinhaebyungil, Toesungmyun
While Yangyang and Jeju are popular areas, one of the oldest surf schools is located in Goseong near Sokcho. Let Me Surf surfing school also has surfing master Kim Min-ho as it's main instructor - he's also registered with Korea Pro Surfing Association and been teaching at the school for around eight years.
A class at Let Me Surf runs about 45,000 won and includes board rental in the price. It includes safety training, ground training and in-water training. They run at least one hour, though could go up to two hours, depending on the number of students registered and their ability. You can also rent just a board for 30,000 won, however they will only rent boards to those who have gone through their basic courses. Suits can be rented for 10,000 won.
The school recommends at least two to three months of classes before you can advance beyond the beginner stage.
While surfing is allowed in the area year-round, they do not rent equipment during the off season (winter).
The school is open from 9 am to 6 pm every day and classes are still held even if it is raining. They are only cancelled with weather makes it too dangerous to take to the water. Classes are held at 10 am and 2 pm and you are encouraged to arrive at least 15 minutes prior to start time.
To book a class, contact Let Me Surf at 010-4381-1811 or visit their homepage at https://letmesurf.kr/.
Hit the Waves with Monkey Surf
58-1 Songjeong Gwangeogol-ro, Haendae-gu, Busan
With the surfing craze sweeping across the country, Busan is no stranger to this trend. There are a few surf shops spread across its beaches, though one of the more popular ones is Monkey Surf.
Located on Songjeong Beach, Monkey Surf offers various rental and lessons packages that will fit whatever your needs are. THey also provide special membership packages for those who plan to come back often. You can take part in a group class, or book a one-on-one lesson.
Group lessons are open to a max of six people per class and come in one-day (65,000 won), two-day (120,000 won), three-day (150,000 won), five-day (240,000 won) and ten-day (480,000 won) packages. Private lessons are 150,000 won for one person, 90,000 won per person for two. This includes equipment rental and each class is a total of three hours - with one hour of that free time to surf.
For those who don't need instruction, board rentals are 20,000 won for two hours, 25,000 won for three hours, and 45,000 won for all day. It is 10,000 won to rent a wetsuit.
To make a reservation, you can call 051-938-8141 or 010-6777-8141 or email monkeysurf75@gmail.com.